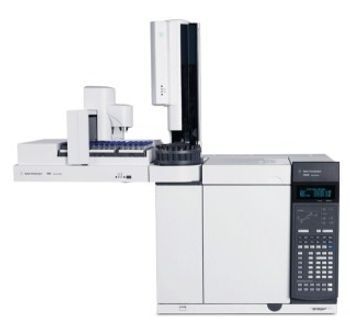 New Instruments Offer Industry-Leading Productivity, Sensitivity and Reliability

Agilent Technologies Inc. today introduced the Agilent 7890B gas chromatograph and the 5977A Series mass selective detector. The 7890B GC and 5977A Series GC/MSD deliver new levels of productivity, sensitivity and reliability.

With the addition of these new products, Agilent offers the industry's broadest, most feature-rich portfolio of GC, GC/MS and software available today. Agilent also offers factory-tested, preconfigured solutions to help fast track setup and operation.

"Our customers can be confident that continuing investments in productivity, quality and reliability have always been and continue to be top priorities for Agilent," said Monty Benefiel, Agilent vice president for Gas Phase Systems. "Customers will find significant product improvements, eco-friendly capabilities and lower cost of ownership, along with unsurpassed performance. This is what our customers expect from Agilent, and we delivered."

The Agilent 7890B GC

Based on the industry-leading Agilent GC platform, the 7890B GC is faster, easier to operate and more cost-effective. One key feature isn't new – Agilent's unsurpassed GC reliability, built over decades and more than 250,000 installations. The 7890B GC offers:
Improved performance specifications with advances in numerous detector modules.
Lower operating costs and eco-friendly operation with power/gas management and sleep/wake modes.
Seamless ordering of consumables and parts with an interactive graphical Parts Finder tool and consumables database.
Easier, faster method development with integrated GC calculators and wizards.
Better asset and resource management with integrated maintenance tools.
Improved recovery of active compounds with Agilent's exclusive end-to-end Inert Flow Path deactivation technology.
Reduced downtime for MS maintenance using the new Fast Vent feature

The Agilent 7890B GC runs on Agilent OpenLAB Chromatography Data System software. The new release of Agilent OpenLAB CDS is up to 40 times faster than previous versions, with a new Data Analysis package and Intelligent Reporting. Advanced interactive integration tools and graphical displays accelerate data review, reducing time-to-results and freeing up operators for other tasks.

"Our customers require the means to efficiently and accurately analyze their data as well as information about their laboratory assets to support decision making or gain further scientific insight. OpenLAB does all of that," said Bruce von Herrmann, Agilent vice president for Software and Informatics. "With streamlined workflows and complete data and method migration from ChemStation and EZChrom, OpenLAB is a fully scalable solution for a single laboratory, multiple workgroups, and entire enterprises."

The Agilent 5977A Series GC/MSD

The Agilent 5977A Series GC/MSD enjoys all the benefits of the 7890B GC and features a redesigned inert MS ion source that enhances performance with highly efficient ion collection. The Agilent 5977A Series GC/MSD now offers the highest sensitivity on the market, with a new specification metric, the Instrument Detection Limit, guaranteeing true system-level performance in practice. Using Agilent's TwisTorr 304 FS turbomolecular pump, optimized for light gas operation, the new 5977A GC/MSD system is efficient and rugged, and has been evaluated and certified to meet industry-leading Agilent quality standards.

The Agilent 5977A Series GC/MSD runs on Agilent MassHunter Workstation software. Ideally suited for high-productivity GC/MS, MassHunter provides intuitive, powerful instrument control, coupled with automated data acquisition as well as qualitative and quantitative data analysis and reporting. It is the industry-leading software solution for high-throughput MS data analysis. MassHunter for MSD systems also includes a full version of MSD ChemStation to ensure compatibility with previously purchased instruments.

Agilent Inert Flow Path Solutions

For GC/MS customers in the food, environmental and forensic industries who perform trace-level analysis on active compounds, Agilent Inert Flow Path solutions ensure a reliably inert flow path for higher sensitivity, accuracy and reproducibility. Agilent's exclusive deactivation solutions enable customers to perform trace-level analysis with the utmost confidence because each lot of Agilent Inert Flow Path components are qualified using chromatographic QC tests to provide reliable, consistent inertness that spans the entire flow path.