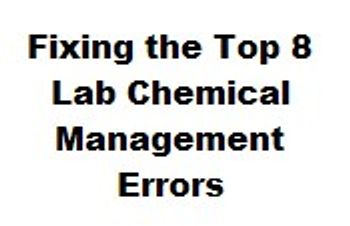 Step One: Get your chemical inventory under control.

In October 2012, Lab Manager Magazine, along with ChemSW Inc., hosted a Product Spotlight webinar, "How to Find and Fix the Top Eight Lab Chemical Management Errors." Jon Webb, senior technical specialist and inventory consultant at ChemSW, gave a brief presentation on the challenges of chemical inventory and data management and outlined some of the common errors that exist in labs today. He discussed best practices in chemical inventory management and the attributes and advantages of implementing such a chemical inventory management system. The live webinar was attended by a global audience with varying levels of expertise from diverse industries. Following the presentation, attendees asked questions, voiced their concerns, and received feedback on specific challenges they encounter in their labs. This event provided them with a unique opportunity to interact with our expert in real time and to seek his guidance and advice on various issues related to chemical inventory management. The event was moderated by Tanuja Koppal, Ph.D., contributing editor for Lab Manager Magazine.
Q: What are some of the key challenges of chemical inventory and data management?

A: The biggest challenge for the lab when it comes to chemical inventory is how it is managed. That's because managing the materials necessary for research isn't something the researchers want to do. They just want the materials on their bench when it is time to run an experiment. So the biggest challenge is getting everyone in the lab to use a system that tracks chemical inventory, logging materials in and out of the system each and every time. Now most organizations aren't doing this very well. They still track chemical inventory on paper, with a basic spreadsheet program, or with a legacy in-house solution. These systems are inefficient, awkward to use, and rarely provide realtime data, so the researchers don't use them consistently. The result is incorrect inventory data, which means that the lab can't rely on the system to ensure that materials are available and the lab's workflows are compromised. The problem gets worse; without accurate chemical inventory information, the organization is caught up in a vicious cycle of under- or over-ordering chemicals, which means it can't manage chemical costs efficiently. So you can see why it is important to get chemical inventory under control.