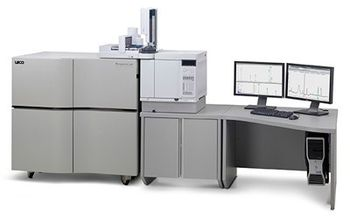 LECO Corporation is pleased to announce a chemical ionization (HR-CI) source for the Pegasus GC-HRT (high resolution time-of-flight mass spectrometer). This field upgradable option empowers users to dramatically change their high resolution GC/MS information with never before seen mass accuracy and resolution on pseudomolecular ions. The Pegasus GC-HRT is available with both electron ionization (EI) and HR-CI sources, providing the option of comparison with classic NIST spectra (EI), and preservation of the molecular ion (HR-CI).

"We are excited to announce the availability of this traditional source for our Pegasus GC-HRT," said Dr. Lorne Fell, Product Manager, LECO Separation Science. "We believe that it will take molecular ion confirmation to a whole new level when combined with the power and capabilities of the GC-HRT."
"For scientists performing petroleum analyses or metabolomics research, the addition of HR-CI makes possible identification of molecular ions and permits the robust assignment of molecular formula enhanced by the resolution and isotope ratios," said Dr. Jeff Patrick, Director of Marketed Technologies, LECO Separation Science. "This is useful in many other fields of analysis, including environmental, dioxins, and food safety."

Together, the CI source and the Pegasus GC-HRT provide a complete package for high-throughput/high-information content analysis, with resolution up to 50,000 FWHM, mass accuracies less than 1 ppm, and acquisition rates up to 200 spectra/second—all with high-integrity isotopic abundance measurements to facilitate rich information content and high-confidence analyte identification. ChromaTOF-HRT® software utilizes True Signal Deconvolution® for accurate peak identification, seamless data handling, and compatibility with the NIST library.