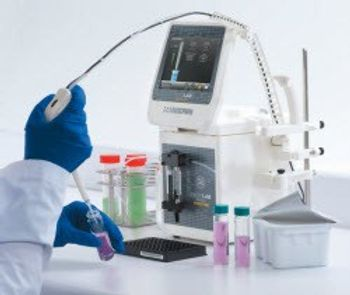 System brings low-cost, automated pipetting to the lab

At the beginning of December, the pipette industry got its first guided pipetting system as Hamilton Company's Laboratory and Sensor Products Division released the Microlab 300 series pipettor. The new pipettor aims to bring automated liquid handling into the hands of laboratory technicians at a low cost and without complex programming.

"The innovative design of the Microlab 300 series pipettor replaces three to four manual or electronic pipettes with one device. Users can dispense between 0.5 to 1000 µL without needing to exchange pipettes," says Jason March, marketing director of the Laboratory and Sensor Products Division. "The Microlab 300 achieves this range with just one probe and two tip sizes, instead of the three pipette sizes and three tip sizes typically required."

This lightweight, hand-held device enables laboratories to achieve excellent quality assurance through reproducible and traceable methods, and to reduce sample preparation time by eliminating inefficient steps, the company adds.
Read more at Lab Manager Magazine