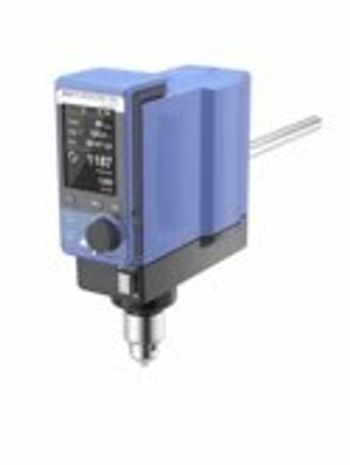 With their pioneering technology and innovative functional design, the new overhead stirrers from global market leader IKA improve laboratory performance and safety.

These stirrers feature a detachable impeller, digital display interface and the option of monitoring the flow properties and other parameters using labworldsoft® software. Regardless of the viscosity and/or application, the new Eurostar line can process quantities ranging from milliliters up to 200 liters.

A unique feature of these stirrers is the removable digital display interface, also called Wireless Controller (Wico), which can operate the unit via Bluetooth wireless technology. Depending on the application, the WiCo makes laboratory work more convenient and safe. For example, when working under a fume hood, the user can still operate the stirrer without exposing themselves to potentially hazardous materials.

The overall design of the Eurostar digital and control versions remain similar. However, the new online update function, which is only available on the control versions, allows for the unit to be updated with the latest software via internet. In addition, the control versions also have a torque display, a TFT display screen, an integrated socket for connecting a temperature sensor and both RS-232 and USB interfaces.

Notable overhead stirrers in this new range are as follows: the EUROSTAR 100 is suitable for more demanding applications as the stirring element can change the direction of rotation to improve overall mixing. In addition, the EUROSTAR 40 digital and the EUROSTAR 200 control received the "red dot design award – product design 2012".

All IKA stirrers are manufactured in accordance with standards DIN EN IEC 61010-1 and DIN EN IEC 61010-2-051. They fulfill and exceed CE requirements and comply with international safety regulations as well.

For larger volume applications, IKA also offers stirrers for the process technology sector, including units that are used in potentially explosive atmospheres. These industrial-scale units can process quantities up to 20,000 liters.