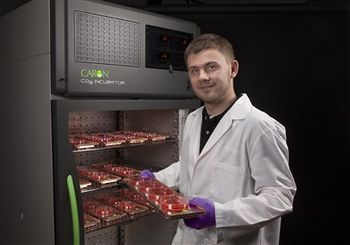 Caron Products & Services, Inc. is proud to announce new Gelf™ cell culture shelving and incubation products. These products use a combination of thermal active gel insulation technology (patent pending) and the antimicrobial properties of copper to enhance everyday cell culture applications. Gelf products address two critical incubation needs: eliminating contamination and maintaining constant cell temperature in and out of the incubator.

Gelf includes the following products:
Gelf™ Pod is designed to increase incubator temperature stability and as a portable "tray" to facilitate laboratory transportation, such as to and from an incubator and BioSafety Cabinet (BSC). A Gelf Pod will accommodate an entire row of standard cell culture vessels. Multiple Gelf Pods will fit on any incubator shelf.
Gelf™ Pod Incubator is a temporary storage solution for high volume cell culture laboratories and facilities that are concerned for their extremely temperature sensitive cell cultures. This product fits easily inside a BSC and can be set up to provide CO2. Use the Gelf Pod to transport a group of cell culture vessels from your laboratory incubator to the Gelf Pod Incubator, typically increasing batch size six-fold.
Gelf™ Shelf is designed to fit into popular 6 cu. ft. to 6.5 cu. ft. benchtop incubators. It is a stationary proactive solution that adds an extra layer of thermal and antimicrobial protection for cells inside of an incubator. Temperature recovery after a one-minute door opening is up to twice as fast and the natural antimicrobial capabilities of copper eliminate microbial contaminates at all times. The Gelf Shelf gives ordinary air jacket incubators thermal performance that supersedes even water jacket performance.

"Gelf is for the scientist who is concerned about safeguarding their cell culture," said Bob Dotterer, Director of Engineering. "These products are available in several formats to maintain optimal cell growth conditions during normal interruptions, such as door openings, feeding and harvesting, and abnormal interruptions, such as in the event of a power failure."

Each Gelf product contains phase change gel specially formulated to change from a solid to a liquid state, or "melt" at 37°C. As heat is introduced to the gel, typically sitting inside an incubator, the gel actively stores heat. When introduced to lower temperatures, such as processing outside of the incubator or during incubator door openings, the gel resists changing back from a liquid to a solid state, thereby slowly releasing its stored heat.

"We have enjoyed strong demand for our new GelJacket CO2 incubator, which incorporates the same gel technology to create unmatched thermal protection in an incubator format," said Dave Figel, Vice President. "The GelJacket's success naturally led us to the development of these new products, which allow any lab to upgrade existing incubators manufactured by any supplier. This technology will revolutionize your conventional CO2 incubator, and related feeding, harvesting and cell transportation."

In addition to phase change gel, all Gelf products are comprised of 100% pure antimicrobial copper. Copper is proven effective against contamination and the natural antimicrobial capabilities work to eliminate microbial contamination all the time.

One key to the Gelf design is their versatility: any lab can incorporate these products.

"One of the greatest features about this product line is that it can be incorporated with any CO2 incubator," Dotterer said. "Now every scientist can give their cells superior thermal and antimicrobial protection both inside their typical CO2 incubator and during routine laboratory procedures that require the removal of cells from an incubator."