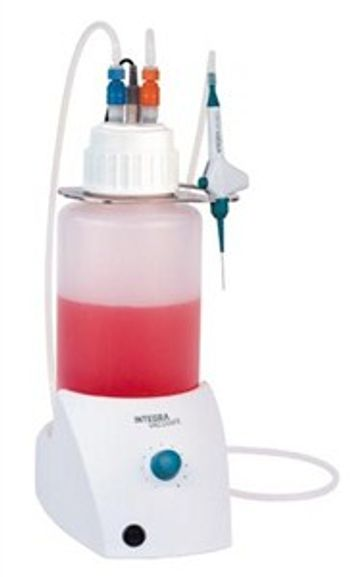 The VACUSAFE Laboratory Aspiration System from INTEGRA is designed to provide simple, reliable and safe aspiration of hazardous waste liquids in Microbiological and Biomedical Laboratories.

The essential elements of the four biosafety levels for activities involving infectious microorganisms and laboratory animals have been laid down by the US Center for Disease Control (CDC)*. The levels are designated in ascending order, by degree of protection provided to personnel, the environment, and the community**. The CDC guidelines dictate that in Biosafety level 2 and 3 areas that laboratory equipment should be routinely decontaminated, as well as, after spills, splashes, or other potential contamination. Moreover vacuum lines / devices must be protected with HEPA filters, or their equivalent. Filters must be replaced as needed.

The VACUSAFE enables Biosafety level 1, 2 and 3 labs to comply with the stringent user safety guidelines for handling contaminated solutions while maximising productivity and minimising noise and operational inconveniences.

The VACUSAFE is a dedicated stand-alone product for the convenient and safe disposal of almost any biological liquid waste. The VACUSAFE has a range of important safety features including a dependable liquid level sensor to prevent overfilling of the shatterproof waste bottle, an easy-to-replace hydrophobic filter that blocks potentially dangerous aerosols from entering the laboratory workspace and fully autoclavable components to protect you from biohazards. For total containment of hazardous liquids, the compact VACUSAFE includes an integrated pump with vacuum control thereby eliminating the risk of contaminating house vacuum pipelines and reducing environmental impact caused by evaporation of volatile elements). The air outlet can be connected to silicon tubing to direct exhaust air into a safety hood or through an additional HEPA filter to produce a totally closed system. Self-closing quick connectors prevent the escape of drops or aerosols when disconnected the waste bottle and tubing. A sturdy handle makes the carrying and emptying of the VACUSAFE waste bottle really simple and effortless.

Operating the VACUSAFE is straightforward – simply switch on, set the desired vacuum and start working. The integrated pump is switched off automatically when the vacuum is established in the bottle and is switched on again when the vacuum is used – this way unnecessary noise is avoided and the pump's lifetime increased. With a wide range of VACUBOY adapters included - removal of liquids is possible from virtually any container or microplate.