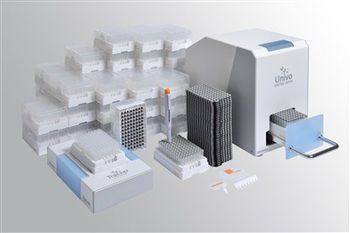 Micronic Starterpacks contain everything you need to start using 2D coded sample storage tubes, enabling laboratory workers to ensure a secure sample logistics system and eliminate the costly possibility of false sample identities.

Available with a choice of either screw cap or TPE cap tube closure - the new Micronic Starterpacks are ideal for smaller biobanks, biorepositories or biotech companies that would like to start using 2D coded tubes for their sample storage. Since the amount of stored samples differs laboratory by laboratory, Micronic offers the new 2013 Starterpacks in a range of sizes: S, M, L and XL.

TPE cap Starterpacks contain an easy-to-use manual capper or Univo electric capper CP480, a 2D barcode rack scanner including operating software, racked 0.75ml or 1.40ml 2D coded tubes with caps, manual cap removers and a tube selector. Screw cap Starterpacks contain a 2D barcode rack scanner including operating software, racked 0.75ml or 1.4ml 2D coded tubes, screw caps, a manual screw cap remover and a tube selector.

Each Starter Pack offers a substantial saving over buying the products individually. Coming from a world leader in traceable sample storage the quality of supplied goods is second to none and all components design optimised to provide top performance.

Manufactured in a class 7 clean room production facility - Micronic sample storage tubes are certified RNase / DNase free and non-toxic, according to the USP class VI test, making them the ideal secure medium for storage of liquid or solid biological samples at low temperatures.

Dedicated to the design and production of innovative sample storage tubes, sample handling equipment and accessories over the last 25 years, Micronic is uniquely able to offer laboratories the expert advice to help them safeguard one of its most valuable assets - its samples.