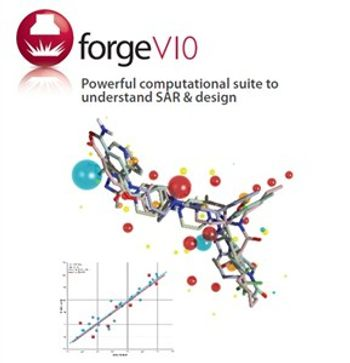 Powerful new capabilities for computational chemistry workbench

Cresset, innovative provider of chemistry software and services, announces the release of a new version of its computational chemistry workbench forgeV10. This release is the first major update following the launch of forgeV10 in 2012 and brings new features and many improvements.
New in forgeV10.1 are:
flexible handling of multiple reference molecules giving improved results during analysis of structure activity relationships.
enhanced capabilities for viewing molecules in 3D.
ability to download protein crystal structure files and rapidly split them into protein and ligand.
"forgeV10 has been an instant hit with our customers. They use it for gaining deep insights into structure activity relationships, for virtual screening on desktop hardware and to develop detailed pharmacophores for the design of compounds and compound libraries," says Dr Tim Cheeseright, Cresset's Director of Products.
He adds, "We have had many customer requests for new features, particularly for more control over how molecules are compared. We have listened carefully to our customers and are proud to introduce significant scientific enhancements in forgeV10.1, as well as streamlining the design of new compounds and interpretation of complex SAR."