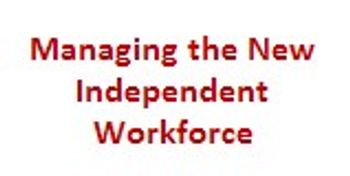 In the age of the "human capital" economy, we are experiencing incredible shifts in the way people work. Contingent labor, virtual workplaces, free agency, and the cloud are just some of the fundamental shifts currently taking place. As a result, management is faced with all sorts of new challenges: how to be more efficient, how to be sure that the work is actually getting done, how to watch compliance issues? If you aren't already a micromanager, these challenges may drive you to become one in these pressure-filled times.

Micromanagement is most often defined as an extremely involved leadership team or highly developed and defined process. And we all need these things at times for purpose and focus. Yet despite best intentions, micromanagement in the form of frequent check-ins, discussions, reports, and conversations can interrupt our work and drive the efficiency quotient down in our labs and on our production lines.

The days of the insular workplace may be approaching their end, especially in the science industry. As the need to address the global marketplace has arrived, most companies have found they must free themselves from the constraints of bricks and mortar—as well as old-fashioned micromanagement.

Enter the professional flexible workforce— that large community of highly skilled "free agents" across the globe who can, and want, to work outside the boundaries of traditional employment engagements and locations. Various reports predict that half the U.S. workforce, or about 70 million people, will be independent workers by 2020 and that the demand for seasoned skilled workers will grow as companies start to see the value of engaging people outside traditional workplace constraints and traditional workforce models. In fact, it is not uncommon for many Fortune 500 companies today to draw 20 percent or more of their professional workforce from a flexible talent pool.
Read more at Lab Manager Magazine