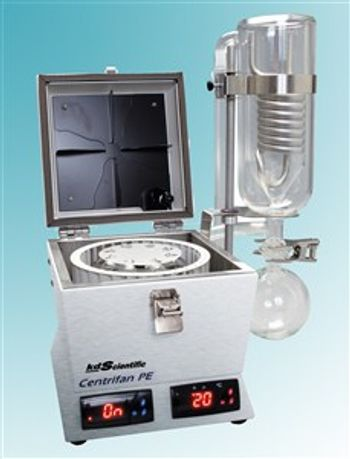 The NEW Centrifan™ PE Evaporator/Concentrator from KD Scientific is a small volume evaporator that eliminates the problem of bumping using patented SBT (Self blowdown technology). SBT allows solvent drying using heated, circulating gas flow and NO VACUUM PUMP!

The Centrifan™ PE dries solvents directly in the vial, increasing evaporation efficiency in your laboratory.

Features and Benefits:
Easy-to-Use - No Monitoring
Quick Set-Up - Put in the Samples and close the cover
Small Footprint
Dry Directly in Vials
Cost Effective
NO VACUUM PUMP - NO BUMPING!

Applications:
Organic Compound Evaporation
Cold Room Evaporator
Toxic & Radio Labeled compounds
Dichoromethane, Chloroform, DMSO & Oil Polymers
Protein Purification
Lyophilization, Dissolved Minerals & Crystal Growth

In the Centrifan™ PE samples are dried in 20ml scintillation or other common vials and there is no need for a vacuum pump or a large supply of blow-down gas. This protects samples from loss and captures toxic vapors and materials in a closed system.