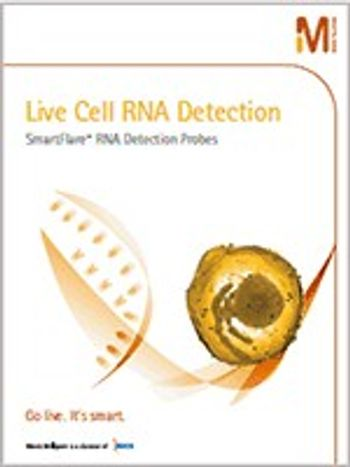 New probes detect RNA expression in live cells with a single incubation step
Eliminates the sample prep, RNA amplification and transfection reagents needed for other RNA detection techniques
Non-toxic technology allows the same cells to be re-studied in downstream assays

EMD Millipore, the life science division of Merck KGaA of Darmstadt, Germany, today introduced SmartFlare™ RNA Detection Probes, a novel technology able to detect RNA expression in live cells with only a single incubation step. The new probes provide researchers with real-time, physiologically relevant data, while eliminating the laborious sample preparation required of traditional RNA detection techniques.

EMD Millipore's SmartFlare™ probes employ inert nanoparticle technology to specifically detect native RNA. The probes do not require transfection or sample preparation. The probes are added to cell cultures and incubated overnight; RNA detection is then performed using any fluorescent detection platform. Once an experiment is complete, the non-toxic probes exit cells on their own, allowing researchers to perform subsequent downstream analyses on the same, unperturbed cells.

Because SmartFlare™ probes allow researchers to work on live, not lysed, cells, the technology offers the ability to track changes in RNA dynamically, over time. The probes also enable gene expression analyses that can reveal meaningful links between gene expression profiles and phenotypes. Researchers can use the probes to visualize RNA with microscopy or detect RNA with flow cytometry. In addition, the SmartFlare™ probes can be used to sort cell types that are traditionally difficult to isolate, using biologically relevant intracellular RNA markers. The ability to detect and separate live cells based on the level of a specific RNA target provides a new opportunity to study cellular functions and identify rare cell types such as certain tumor cells and cancer stem cells.

Other potential applications include quantifying miRNAs, assessing multiple RNA targets at once and analyzing RNA and protein in the same cells.

"SmartFlare™ probes eliminate laborious sample prep and allow researchers to study native, unamplified RNA which can reveal more meaningful links between the genotype and phenotype," said Victor Koong, Product Manager, EMD Millipore. "The ability to detect RNAs in individual, live cells can enable an unequivocal assessment of gene expression changes that occur in direct response to specified perturbations. Determining which genes are up- or down-regulated in these perturbed cells will provide novel insight into the relationships between gene expression networks and cell functions."

EMD Millipore will be presenting the SmartFlare™ RNA Detection Probes during an exhibitor spotlight at the American Association for Cancer Research's 2013 Annual Meeting in Washington, DC. The presentation is occurring April 9 at 12:30 PM in the Exhibitor Spotlight Theater.