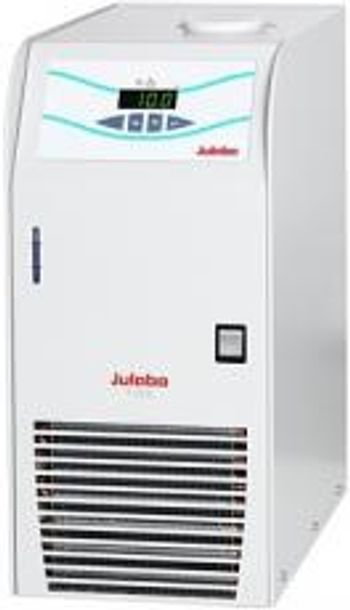 The new product family by JULABO offers space-saving and eco-friendly recirculating coolers for simple cooling applications from -10 °C to +40°C.
The F series of Compact-Recirculating coolers by JULABO are ideal for simple cooling tasks. The smallest recirculating cooler of this new family – the F250 – was technically up-graded to provide a wider temperature range from -10 °C to +40 °C with 250 W of cooling at 20 °C. The new F500 recirculating cooler features a 500 W capacity and a stronger integrated pump. The F500 pump delivers 24 L/min at 7.1 psi.
All F series coolers feature stainless steel construction with a centrifugal pump. Units are easy to operate with set point entered via a 3-key-control panel. Temperatures can be read from a distance on the large, bright LED display. The PID temperature control guarantees a temperature stability of ±0.5 °C. The bath fluid filling port is easily accessible on the top. The compact, space-saving design permits flexible positioning on or below laboratory benches. The sides have no venting grids and permit placement directly next to a wall or other laboratory equipment.
The JULABO F series recirculating coolers are a low cost investment. Their energy-efficient proportional cooling operation make them an ideal replacement for cooling water.