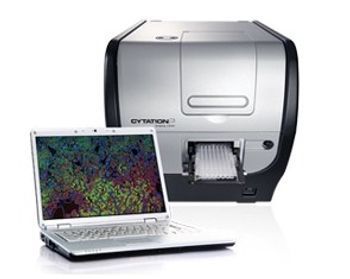 BioTek continues providing unique solutions and technological advancements in microplate instrumentation by proudly announcing the first combination Hybrid multi-mode microplate reader and imaging system — the Cytation™3 Cell Imaging Multi-Mode Reader! By combining multi-detection and automated digital microscopy in one instrument, cell biology researchers can now glean data-rich quantitative and qualitative information from their cells like never before. Modular architecture allows users to select only what they need now, and upgrade with additional modes as their needs evolve.

The automated digital fluorescence microscope features brightfield imaging and color switching through onboard filter cubes. Red (Texas Red), green (GFP) and blue (DAPI) cubes are standard, with a fourth position available. Automated XY stage, autofocus, autoexposure and software features increase throughput of CCD-based image capture, cell counting and other tasks that are tedious when performed with manual microscopy systems. Onboard objectives in a magnification range from 2x to 20x allow the user to view an entire microplate well or to examine the minute details of intracellular activities.

Cytation3's multi-mode microplate reader measures absorbance, fluorescence and luminescence detection. BioTek's patented Hybrid Technology™ combines filter- and monochromator-based fluorescence optics in one compact unit for endless assay flexibility now and in the future. Filter-based optics provide superior sensitivity and efficiency, while monochromator optics allow any wavelength choice from the UV to the near infrared, as well as wavelength scanning. Top and bottom optics enhance Cytation3's flexibility even further.

In addition to imaging and reading, Cytation3 offers uniform temperature control to 45°C, variable shaking modes, and CO2 and O2 regulation for live-cell assays. This streamlines lab efficiency and reduces cell exposure to unregulated environments normally occurring during manual plate transfers.

Cytation3 is ideal for microplates from 6 to 384 wells and microscope slides. The integrated Gen5™ Data Analysis Software is simple and intuitive to use, and requires minimal training. Optional dual reagent dispensers may be used for inject-and-read assays. Additionally, an optional BioStack™ Microplate Stacker provides increased throughput and walkaway automation of up to 50 standard microplates.

By combining digital microscopy, multi-detection and incubation in one compact and affordable instrument, Cytation3 helps to simplify research and assay development, and also to increase cell biology research throughput.