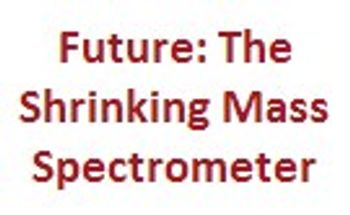 Scientists from Sandia National Laboratory reported, in 2005, a microfabricated mass spectrometer-on-a-chip. This was followed by a report, in Nature Nanotechnology, that researchers at the California Institute of Technology had used nanoscale technology to create a microscopic "spectrometer" with single-molecule sensitivity. (See our May issue for a report on Microsaic's introduction of a chip-sized MS).

These inventions will require macro-scale interfaces and other components, and are years from commercialization. For now, we must be satisfied with miniaturization that is more in line with conventional instrumentation.

Last year 1st Detect introduced the first commercially available version of its MMS-1000™ Miniature Mass Spectrometer. Conceived as an industrial instrument, the MMS-1000 provides rapid MS/MS detection for airports, border security, military, agricultural, and process control markets—all in a package measuring 7.5 x 12.5 x 9 inches.

Q: Mass spectrometers used to be gangly, sprawling instruments. What does it take to shrink an MS?

A: In short: engineering know-how, a lot of clever tricks and ideas, hard work, and not knowing what isn't supposed to be possible. 1st Detect is a spin-off company from an aerospace firm called Astrotech Corp. Many of our engineers have aerospace design experience working with NASA and therefore have experience producing designs that had to be small, lightweight, and reliable. We have carried this experience and engineering discipline into our mass spectrometer design. Actually, our mass spectrometer was originally intended to be an air monitor for the International Space Station, but we realized it had huge potential here on Earth. Having a predominately aerospace background, our company has not had its design methodology bounded by the phrase "that's the way it's always been done," which I frequently hear in the mass spectrometry world. Also, keeping things small usually means keeping them simple. It has also helped to have had our early development guided by Dr. Guido Verbeck from the University of North Texas, who is a pioneer in mass spectrometer miniaturization.
Read more at Lab Manager Magazine
View our Mass Spectrometers category on LabWrench