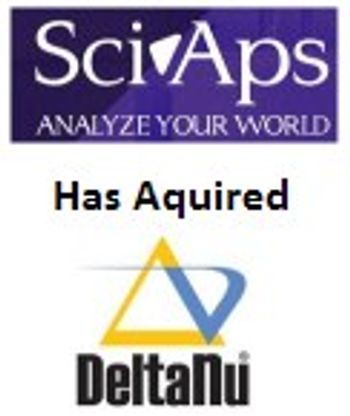 SciAps, a Woburn, MA based portable analytical instrumentation company, is pleased to announce that it has acquired DeltaNu, located in Laramie, WY and formerly a business unit of Intevac Photonics. DeltaNu develops and manufactures a range of Raman-based analyzers applicable for pharmaceutical, law enforcement, and many general analytical spectroscopy applications.
The combined companies fuse SciAps' global distribution, marketing and product development expertise with DeltaNu's portable Raman technical expertise, SERS technology, plus a fully accredited ISO 9001 manufacturing and service facility. Together the company is introducing the all new InspectoR™series of portable Raman analzyers, featuring the choice of a 785 nm or 1030 nm laser. The InspectoR models complement the existing ReporteR™ and Pharma ID™ palm-sized Raman units. Moreover, the company can offer a 3-tiered handheld Raman platform, thus providing a price and performance package for virtually any Raman spectroscopy application.
SciAps will maintain and grow the facility in Laramie as a world-class manufacturing, service and engineering entity, to complement the product development, sales and marketing efforts lead from the Woburn, MA facility.