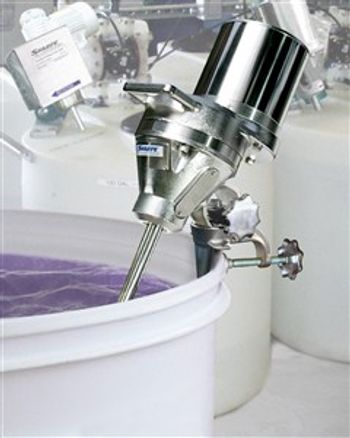 A line of portable sanitary mixers that can be built to match customer requirements and feature a hand-wheel mounting system which allows easy changeovers is available from Sharpe Mixers of Seattle, Washington.

Sharpe Portable Sanitary Mixers feature the M5 Quick-Lock mounting system which has two ergonomic hand-wheels and interlocking wedge components with enhanced locking force for installation and repositioning without tools. For users who want added leverage, the mount has a hex base that accepts an open-end wrench and these all-stainless steel mixers are built with off- the-shelf motor, shaft, and impeller options to match customer requirements.

Suitable for blending liquids from 50 to 5,000 gallons at viscosities from 1.0 to 50,000 cps, Sharpe Portable Sanitary Mixers are USDA-approved and can adapt to a variety of applications. Available with 3/4", 1", and 1-1/4" dia. shafts up to 8 ft. long, they can be equipped with 4" to 16" dia. hydrofoil impellers and fractional to 2 HP pneumatic or electric motors.