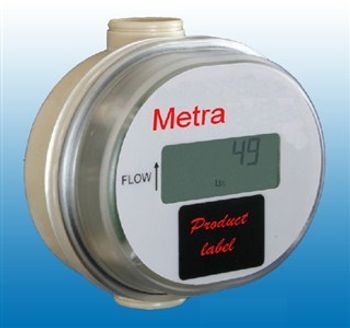 Titan Enterprises has launched the Metra-Flow OG2 - a new combined flow sensor and battery-powered six-digit flow totaliser for monitoring the delivery of corrosive and/or highly viscous fluids.

With a polycarbonate front cover, wetted parts moulded in polyphenylsulfone (PPS), PEEK, and silicon and spindles in 316 stainless or ceramic the durably constructed Metra-Flow OG2 is designed to give high performance with a low cost of ownership. It offers a standard flow range from 0.1 to 4 L/Min on 30 Cstk oil or post mix syrup and 0.2 to 4.0 L/min on water like liquids. The Metra-Flow OG2 utilises totally non-metallic wetted components including PEEK™, ceramic and an elastomer which makes it the ideal choice for the metering of corrosive fluids at temperatures up to 80C and pressures up to 10 Bar / 150PSI.

At the heart of the flow meter are a pair of toothed oval gears one of which contains chemically resistant PTFE coated magnets which signal the flow rate to the externally mounted indicator. The 6 digit totaliser display provides the accumulated total volume dispensed, in litres, enabling accurate inventory control and accounting for valuable fluids usage. OEM versions of the Metra-Flow OG2 are proven as a beverage syrup monitor and for filter monitoring.

Combining high quality materials and proven flow metering technology the Metra-Flow OG2 is designed to provide reliable, accurate operation throughout its estimated 4 year battery life. OEM versions of the Metra-Flow OG2 are available custom optimised to suit your application.