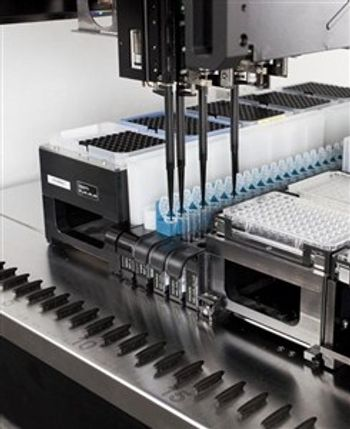 Hamilton has collaborated with kit manufacturer MACHEREY-NAGEL® to create the Genomic STARlet™, an automated liquid handling workstation that extracts nucleic acids from biological samples and purifies PCR products in a non-IVD environment. Just one instrument can run up to eight pre-installed protocols and accommodate different input samples, including bacterial, eukaryotic cells, tissue, blood, plants and others. More than a dozen nucleic acid MACHEREY-NAGEL kits have been tested on the instrument, which processes 96 samples in 60-144 minutes depending on the kit, enabling several runs to be performed each day.

The instrument package includes easy-to-use software with an intuitive user interface for easy MACHEREY-NAGEL Vacuum protocol selection. In addition, unlike other systems, the operator can easily switch protocols.

The Genomic STARlet uses the same precision instrumentation as other Hamilton instruments and features real-time clot detection, uses no aerosols due to forceless tip pickup and ejection technology (CO-RE) and minimizes contamination risks with unique features like Anti-Droplet Control (ADC) design. The hardware also saves space with an integrated, small-footprint vacuum system, and the CO-RE Gripper provides fast and convenient on-deck transport.