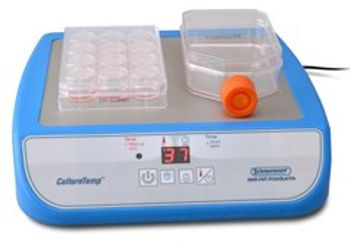 Keep cell cultures out of the incubator longer with the new Scienceware® CultureTemp™ 37°C Warming Plate. This unique warming plate maintains a 37°C (±1°C) temperature which is optimal for trypsinizing cells during cell passaging. Its small footprint allows use in a cell culture hood or on the benchtop.

Image removed by sender. Scienceware CultureTemp Warming Plate"Keeping cells at this optimal temperature during cell passaging reduces cell stress which can lead to cell death, by shortening the time needed for enzymes like trypsin to work," according to Laura Geenen, Product Manager for Bel-Art Products. "It also minimizes the need to repeatedly enter a CO2 incubator which disrupts the environment inside the chamber, putting stress on all the cells in the incubator."

Beneficial for life science laboratories at universities and medical centers, R&D laboratories in pharmaceutical environments, and contract research organizations, the CultureTemp™ 37°C Warming Plate saves time by preventing the need to go back and forth from incubator to work area. The unit easily fits in a cell culture hood or on a workbench and its 17.8D x 20.3cmW (7 x 8") warming surface fits all current sizes of tissue culture vessels.

A 15 minute count down timer keeps track of time sensitive applications while the UV resistant polypropylene housing will not break down under germicidal UV lights. It is water resistant and safe for cleaning for Ethanol or IPA.