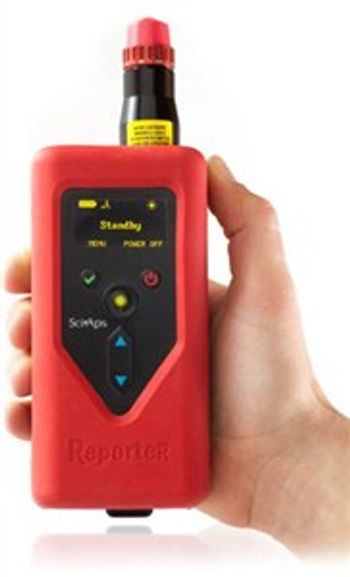 SciAps, a Woburn, MA based portable analytical instrumentation company, is pleased to announce the sale of a large number of handheld Raman spectrometer units – The ReporteR™ – to the Brazilian Federal Police to aid in World Cup security.
The ReporteR unit is believed to be the smallest, lightest handheld Raman analyzer available. It meets IP 67 and MilSpec 810G standards for being waterproof, dustproof and shock resistant. A key feature cited for the application was the security of test methods, in addition to the ruggedness and compactness of the unit. Test methods can be developed and flexibly customized by a qualified end-user via a PC. Once configured, the test methods are locked into the handheld to prevent further modification or tampering. The ReporeR is then ideal for a broad geographical roll out to multiple, non-technical users in law enforcement and security applications. Data meets 21CFR 11 requirements. Libraries for illegal narcotics, chemical agents and explosives are available allowing for rapid, discrete testing of suspect materials.
The ReporteR was previously sold under the DeltaNu brand name, formerly a business unit of Intevac Photonics. SciAps has acquired DeltaNu, located in Laramie, WY. The combined companies fuse SciAps' global distribution, marketing and product development expertise with DeltaNu's portable Raman technical expertise, SERS technology. SciAps also maintains a fully accredited ISO 9001 manufacturing and service facility at the Laramie location. SciAps will maintain and grow the facility in Laramie as a manufacturing, service and engineering entity, to complement the product development, sales and marketing efforts lead from the Woburn, MA facility.