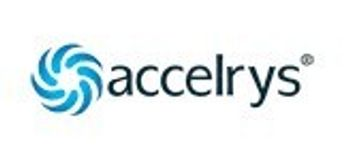 Accelrys expands enterprise capabilities with new externalization support and enhanced science to drive innovative product development

Accelrys, Inc., a leading provider of scientific innovation lifecycle management (SILM) software, announced today Accelrys Enterprise Platform 9.0, an open, scientifically aware platform delivering breakthrough capabilities for managing "Big Data" and externalized research collaboration networks. With significant new technology enhancements in the areas of security, administration and scientific services, Accelrys is extending the enterprise capabilities of the Platform, providing organizations with powerful new tools for streamlining the lab-to-commercialization value chain within and outside of the firewall and driving innovation in new product development.

"Our customers across industries have more scientific data to help them innovate than ever before, yet their ability to efficiently transform that data into knowledge is limited by tools and processes that fail to take an integrated, holistic approach to new product development," said Accelrys President and Chief Executive Officer Max Carnecchia. "A year ago, Accelrys issued an industry-wide challenge to close the productivity gap hampering innovation. We remain committed to that effort and we believe that Accelrys Enterprise Platform 9.0 marks a significant advance in helping our customers accelerate innovation."

The open, scalable and scientifically aware architecture of Accelrys Enterprise Platform uniquely positions the Platform to help organizations manage data, processes and people in modern global enterprises. Specific capabilities in Accelrys Enterprise Platform 9.0 include:

Big Data – Accelrys Enterprise Platform 9.0 provides the ability to access large volumes of data across an enterprise with the Accelrys Query Service, Accelrys Direct and various database and file connectors. Organizations can then take advantage of the Platform's broad scientific Collections, which are capable of handling structured and unstructured data, biological sequences, chemical structures, images and text, to perform calculations that analyze and process that data. Additionally, the Platform's reporting capabilities enable end users to interpret and interact with data to drive more informed and better decision-making. Significant enhancements around load balancing and high-performance computing speed data processing.

Externalized Collaboration – The ability to securely and efficiently interact with external partners from research through manufacturing is essential to today's global enterprises. New capabilities in Accelrys Enterprise Platform 9.0 allow for flexible administration, and Internet deployments of clients outside of an organization's firewall, with enhanced security.

Scientific Services & Chemistry Harmonization – Unlike other software platforms, Accelrys Enterprise Platform is distinguished by its scientific capabilities. These are delivered through the Accelrys Enterprise Platform Collections, including the Imaging Collection, the Next Generation Sequencing Collection, the Chemistry Collection and Reporting Collection. With the release of Accelrys Enterprise Platform 9.0, chemical structure perception is now standardized across the Platform and the Accelrys Direct cartridge for Oracle, allowing a consistent representation of all chemical types including molecules, reactions and chemically modified biologics across applications.

The Accelrys Enterprise Platform is the industry's first open, scientifically aware and scalable software platform with an SOA architecture capable of addressing the key challenges organizations face in today's competitive and resource-constrained environments. Built with science at its core, the Platform enables organizations to access and gain value from complex data across an enterprise and to integrate and deploy broad scientific solutions from research and development through quality control and manufacturing. Accelrys Enterprise Platform provides the foundation for Accelrys' scientific software and services; major new applications launched within the past year to run on the Platform include the Accelrys Externalized Collaboration Suite and the Accelrys Process Management and Compliance Suite featuring the new Accelrys Laboratory Information Management System.