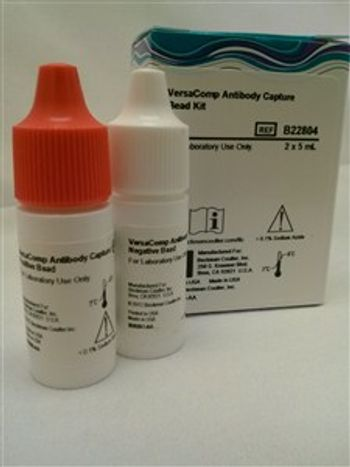 Researchers Use Their Test Reagents When Setting Color Compensation

VersaComp Antibody Capture Bead kits from Beckman Coulter Life Sciences are designed to set compensation for multicolor flow cytometry experiments by allowing researchers to utilize the same reagents used in their experiments.
Two vials are provided. One contains positive beads, microspheres which capture conjugates in single-color stains, and the second contains negative beads, which provide particles with a measure of autofluorescence similar to unstained cells across the different excitation/emission wavelength combinations including those excited by violet lasers. Using positive and negative beads for each conjugate allows generation of a compensation matrix to correct for the spectral overlap of that conjugate into other channels.
All mouse and rat isotypes, most hamster isotypes and rabbit polyclonal IgG are recognized by the positive beads. The fluorescence generated by the positive beads after capture is well separated from the fluorescence generated by the negative beads.

"Spectral matching particles for optimizing compensation in a wide variety of channels for flow cytometers will enable scientists to generate results quickly and accurately," said Bill Godfrey, manager of research application development, Beckman Coulter Life Sciences. "VersaComp beads offer a much needed, simplified method for quality control of fluorochrome conjugated antibodies."
Flexible enough for customers to use their test reagents – which may include tandem conjugates offered by Beckman Coulter Life Sciences or those of other manufacturers – the kits can be used with any cytometer including configurations with more than three lasers.
To learn more about VersaComp Antibody Bead kits and Beckman Coulter Life Sciences' line of over 1,100 human antibodies in 15 fluorochrome options (including patented Krome Orange) and a wide range of supporting reagents, please visit, www.BeckmanCoulterReagents.com.