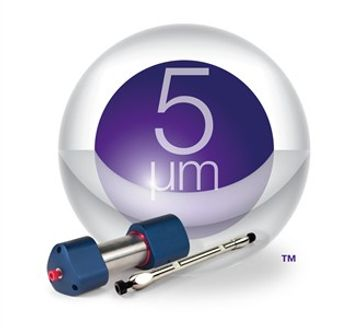 Phenomenex Inc., a global leader in the research and manufacture of advanced technologies for the separation sciences, introduces the Kinetex C8 5-micron core-shell HPLC column. The widely used C8 phase delivers optimum retention for the analysis of hydrophobic and "sticky" compounds. In combination with Kinetex Core-Shell Technology, this phase gives analysts an excellent high-performance reversed phase alternative for HPLC methods. As with the existing Kinetex 5-micron C18 and XB-C18 phases, the new 5-micron C8 core-shell column can be easily substituted into methods that meet United States Pharmacopeia (USP) and European Pharmacopoeia (Ph. Eur.) requirements. Specifically the Kinetex 5-micron C8 meets USP specifications for Classification Code L7, enabling laboratories using 5-micron L7 columns to realize the performance benefits of Kinetex Core-Shell Technology without adjusting their USP methodology.

The largest diameter particle in the family, Kinetex 5-micron core-shell media delivers better performance than 3 and 5-micron fully porous offerings, with no increase in backpressure. In fact, the new 5-micron media provides 90 percent higher average efficiencies compared to the same size fully porous columns with little to no method development. Kinetex 5-micron C8 columns are fully scalable to or from the 1.7- and 2.6-micron particles, enabling easy method transferability.

"This new 5-micron phase expands our ever-growing Kinetex product line, which meets customers' needs from UHPLC to HPLC to small-scale preparative purification," comments Simon Lomas, brand manager for Phenomenex. "Kinetex Core-Shell Technology delivers huge performance advantages over conventional, fully porous media, such as sharper peaks, reduced run times, and more smiles in the lab."

Phenomenex is a global technology leader committed to developing novel analytical chemistry solutions that solve the separation and purification challenges of researchers in industrial, clinical research, government and academic laboratories. From drug discovery and pharmaceutical development to food safety and environmental analysis, Phenomenex chromatography solutions accelerate science and help researchers improve global health and well-being.