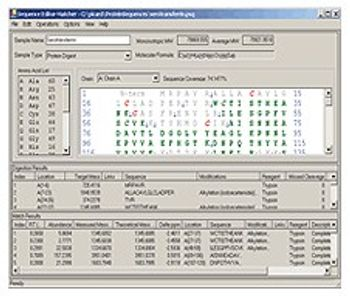 Agilent Technologies Inc. today introduced two applications that further enhance its MassHunter Workstation software and LC/MS, GC/MS and ICP-MS instruments. These new applications empower users to rapidly create targeted screening methods for food safety and forensic analysis, and to characterize intact proteins and biosimilars for biopharmaceutical research.
The new Agilent MassHunter All Ions MS/MS and MassHunter BioConfirm programs are designed to significantly increase laboratory productivity and streamline method-development processes.
"We are continuously looking for ways to help laboratories enhance their research outcomes and speed up the discovery process," said Steve Madden, Agilent's product manager for LC/MS software. "These two additions to our larger suite of MassHunter software will go a long way to help researchers maximize the quality of their data and further optimize the power of our LC/MS instrumentation."
The new MassHunter All Ions MS/MS software enables researchers to quickly and easily create acquisition methods using Agilent time-of-flight and quadrupole time-of-flight instruments. It will also automatically confirm the identities of compounds with high-resolution, accurate-mass libraries and create quantitative screening methods in minutes rather than days.
MassHunter BioConfirm software provides mirror plots for the comparison of biosimilars and peak modeling deconvolution to determine the molecular weight of intact proteins. The peak-modeling algorithm removes artifacts from a mass spectrum and helps resolve overlapped peaks. The resulting (simplified) spectra then allow researchers to visualize the precision of the mass measurement and ensure the accuracy of their results. This enables rapid confirmation of intact protein sequences and modifications.
Agilent's MassHunter Workstation portfolio includes 20 individual software applications designed to optimize instrument control, data acquisition and qualitative/quantitative data analysis for Agilent's , time-of-flight, quadrupole time-of-flight, triple quadrupole, and inductively coupled plasma mass spectrometry systems.