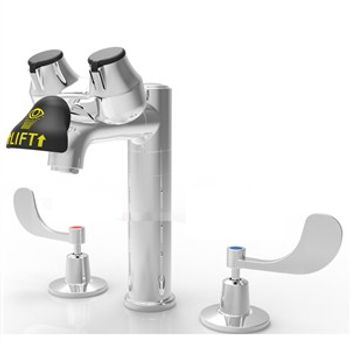 In the midst of a chemical eye burn, panic ensues. Our senses become rendered and instinct naturally takes over. Our reflexes instantly rush us to the nearest location we are programmed to believe offers relief…the sink.
Speakman® is proud to unveil the SEF-1801 Eyesaver™, the latest revolutionary new addition to the SEF Eyesaver™ family of eyewash systems. This revolutionary new product combines a fully functional widespread laboratory faucet with an independently operated eyewash.
The SEF-1801 features two separate water supplies built within its single post design. This ensures that safe, tepid water will consistently flush into the victim's eyes, regardless if hot water if lowing from the faucet simultaneously. A simple lift of the easily recognizable activator releases soothing, aerated sprays into the victim's eyes
The Speakman® SEF-1801 is 100% ANSI Z358.1 certified, features 3-hole installation and solves most eyewash station problems, is available in a 8 in. spout version (SEF-1801-8_ and can save potential long lasting eye injuries in a precise, efficient manner.