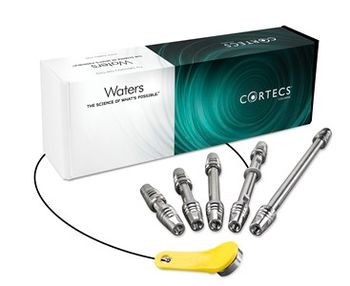 Waters Corporation introduced CORTECS™ Columns, a new family of 1.6 micron solid-core UltraPerformance LC® Columns that set a new standard in LC column performance. The higher efficiency brought to chromatography with CORTECS Columns allows laboratories to produce greater amounts of information faster with every chromatographic separation.

Available in C18, C18+ or HILIC chemistries, Waters offers the columns in 30 unique column configurations and is making them available for shipping worldwide. Waters introduced the new columns at HPLC 2013, the 39th Annual Symposium on High Performance Liquid Phase Separations and Related Techniques.

The industry's most significant new column introduction in years, when used together with the low-dispersion Waters® ACQUITY UPLC®, ACQUITY UPLC I-Class and ACQUITY UPLC H-Class Systems, CORTECS Columns offer previously unattainable levels of performance.

"With the introduction of CORTECS columns, Waters is again responding to the need of laboratories for greater resolution, speed and sensitivity," said Michael Yelle, Vice President, Consumables Business Operations, Waters Division. "This family of columns represents a leap forward in chromatographic particle design, column hardware, packing technology and, most importantly, overall performance."

CORTECS Column particles feature a solid, impermeable silica core encased in a porous silica outer layer where the interactions between the stationary phase and the analytes occur. The three CORTECS chemistries and their intended uses are:
CORTECS C18 Column is a general-purpose, high-efficiency, reversed-phase column offering balanced retention of acids, bases, and neutrals at low and mid-range pH.
CORTECS C18+ Column is a general-purpose reversed-phase column with a positively charged surface that delivers excellent peak shape for basic compounds at low pH.
CORTECS HILIC Column is designed for the retention of extremely polar analytes while offering orthogonal selectivity versus C18 columns.
The product of more than 40 years of bonding and surface technology know-how and a decade of synthesizing and packing sub-2-micron particle columns, Waters CORTECS Columns deliver the full benefit of solid-core particle technology.