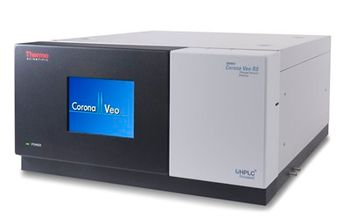 Thermo Fisher Scientific Inc., the world leader in serving science, today introduced the Thermo Scientific Dionex Corona Veo, an advanced charged aerosol detector (CAD) for liquid chromatography (LC) engineered to increase the effectiveness of CAD technology with expanded low-flow capability and additional sensitivity compared to its previous detectors.
A new FocusJet concentric nebulization system was developed specifically for the Corona Veo detector to enhance performance, especially for the detection of semi-volatile compounds. Compared to its past systems, the new aerosol flow path is improved for a wider range of usable LC mobile phase compositions and can accommodate a broader range of separation chemistries and column technologies.
The Corona Veo detector is designed to make the universal detection benefits of CAD accessible with the speed and resolution of UHPLC at sub-nanogram sensitivity levels. The detector works with non-volatile and many semi-volatile compounds, from large to small molecules, including: drugs, additives, supplements, natural products, polymers, and specialty chemicals. The Corona Veo detector can be used to evaluate relative analyte concentrations, even when standards are not available.
"Since the introduction of CAD in 2005, we have seen tremendous customer uptake of the technique," said Fraser McLeod, vice president and general manager, HPLC, for Thermo Fisher Scientific. "At the same time, our customers have given us many great ideas for making CAD more useful. This new detector incorporates much of this customer input, resulting in higher sensitivity, more robustness, and support for a wider range of applications."
Charged aerosol detection is considered a powerful technology that achieves near universal detection while providing consistent analyte response, regardless of an analyte's chemical structure, for true quantitative analyses. This technique helps scientists reveal hidden contaminants earlier in development processes, saving valuable time and money.
The new Corona Veo charged aerosol detector supports HPLC and UHPLC systems from most major manufacturers. It can also complement the functions of UV detection and mass spectrometry to maximize the breadth of compound information obtained from a single analytical run