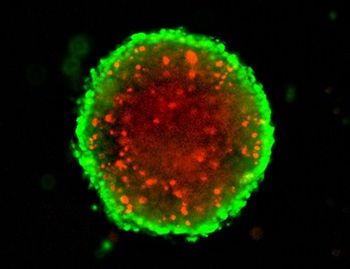 AMSBIO has introduced a new range of 96-well format 3D Spheroid Cell Proliferation / Viability Assays, providing a new tool to allow cell-based assays to be carried out in 3D.

The new AMSBIO 3D Spheroid Proliferation/Viability Assay provides a useful tool for modeling tumor response in vitro. The kit utilises a 3D Culture Qualified 96 Well Spheroid Formation Plate alongside a specialised Spheroid Formation Extracellular Matrix to drive aggregation and/or spheroid formation of cells. Upon completion of spheroid formation, the spheroid may be treated with pharmacological agents to evaluate tumor viability after drug treatment. Tumor spheroid expansion is visualized microscopically and can be quantitated through image analysis software for real-time and label free evaluation. At the conclusion of the assay, cell viability may be assessed by fluorescence using Resazurin. The 3D Spheroid Fluorometric Proliferation/Viability Assay offers an in vitro, standardized, three-dimensional, high content format for inducing multicellular tumor spheroid (MCTS) formation and quantitating cell viability within the spheroids in response to pharmacological treatment.

The AMSBIO 3D Spheroid Proliferation/Viability Assay establishes physiological gradients for nutrients, oxygen, catabolites, and pH due to limitations in diffusion through multicellular layers. These gradients also promote the creation of heterogeneous cell populations with proliferating cells on the spheroid surface, quiescent cells in the intermediate layers, and necrotic cells in the core, similar to an avascular tumor. Uniform spheroid size and physiology is determined through cell seeding, providing a robust and reproducible assay format for drug screening or pathway analysis.