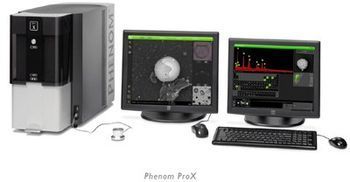 With the introduction of the next generation Phenom ProX desktop SEM Phenom-World confirms its position in the top of the high-end table top for SEM imaging and analysis. With a magnification range up to 100,000x and resolution of 17nm the Phenom ProX delivers more detailed information than ever before.
All-in-one system
All Phenom-World scanning electron microscopes are intuitive to use, compact, fast to create results and built to high quality standards. The most extended solution in the range is the next generation Phenom ProX. The advanced system identifies different elements in a specimen by using the integrated Element Identification software with a specially designed EDS detector. With new techniques and software-developments, the magnification range has been extended from max. 45,000x to 100,000x magnification. Combined with a resolution of 17nm, the next generation Phenom ProX is a valuable instrument for a wide variety of applications.
Fully integrated EDS solution
The specially designed and fully integrated EDS detector combined with integrated software package makes the Phenom ProX the most extended solution for fast and user friendly imaging and analysis. The EDS-technique analyzes X-rays generated by the electrons from the electron beam interacting with the sample. The Phenom CeB6 electron source generates the highest number of X-rays in its market segment. The fully integrated Element Identification software package allows users to identify any hidden elements within a sample via the point-and-shoot functionality. Additionally, the software can be expanded with a combined Elemental Mapping and Line Scan option. Elemental Mapping reveals the distribution of elements within the sample. The selected elements can be mapped at a user-specified pixel resolution and acquisition time. Elements can be added or removed at any time during or after the mapping process. Line Scan allows analysis over a selected line.The results can easily be exported and reported.