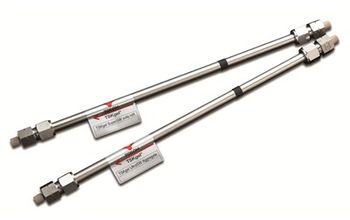 Tosoh Bioscience announced today two new size exclusion high performance liquid
chromatography (HPLC) columns for the high resolution analysis of monoclonal antibodies (mAb.) These columns are now available for sale in the Americas from Tosoh Bioscience.
The new TSKgel® SW mAb columns meet the growing demand for the higher resolution separation of mAb monomer and dimer/fragment, as well as higher resolution of mAb aggregates. They are silica based and utilize a unique pore-controlled technology, which produces a shallow calibration curve in the molecular weight region of a typical monoclonal antibody, resulting in high resolution separations.
This line of size exclusion columns consists of two new products: TSKgel SuperSW mAb HR and TSKgel UltraSW Aggregate. These columns join the renowned line of TSKgel SW-type columns, including the TSKgel G3000SWXL, which have been setting the standard in size exclusion HPLC since their introduction in 1977.
Compared to competitive columns, these new stainless steel, silica based TSKgel columns offer reduced lot-to-lot variation, long column life, reduction of unspecified adsorption, and superior recovery of aggregates.
The TSKgel SuperSW mAb HR offers high resolution separation of the monomer and fragment, which comes from the shallow calibration curve. The TSKgel UltraSW Aggregate has a high exclusion volume and smaller particle size, which gives it superior resolving power for multimers and aggregates of large proteins, including thyroglobulin and IgG.