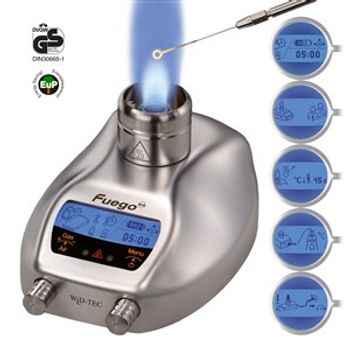 The innovative Fuego SCS Series from WLD-TEC GmbH provides maximum safety and highest convenience for all flame-related applications in the laboratory.

The Fuego SCS offers more convenience through the new graphic display and comfort functions. The animated, self-explanatory and wordless symbol display facilitates a rapid and easy selection of all functions.

To assist the user the new comfort functions provide:
Zero-pressure shut off
Gas consumption display
Cooling reminder for inoculation loops
Temperature regulation for heating media
User account selection
Graphical installation instructions
Acoustic signals as operating aids
The Fuego's streamlined design reduces air flow disturbances in laminar flow hoods.

The Safety Control System SCS demonstrates state-of-the-art safety technology which constantly analyzes potential hazards and, if necessary, initiates safety measures, such as an interruption of the gas supply.

Exceptional passive safety features include a residual heat display that will signal that the burner head is still hot in order to protect the user from burns. The adjustable automatic cut-off system inhibits unintentional ignition when the flame has not been ignited for a longer period of time.

The Fuego SCS can be operated with the touch free DoubleClick IR-Sensor, button or foot pedal.

Applications from 1 sec. to 2 hours are possible. The DoubleClick IR-Sensor ensures that the burner can only be ignited by activating the sensor twice. As a result, unintentional ignition or ignition due to dropping or falling objects is virtually impossible.

The Fuego SCS is available with a wide range of optional accessories for example a wireless foot pedal, a benchtop switch and several gas cartridge systems if a gas supply is not available in the laboratory.

The NEW Fuego SCS Series - Quality down to the smallest detail!