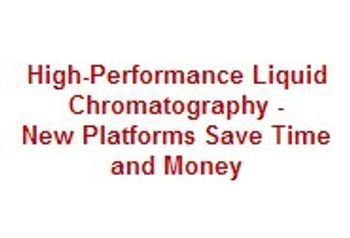 Many scientists separate solutions with high-performance liquid chromatography (HPLC). "With this technology and others, users need data faster," says Michael Frank, PhD, analytical HPLC marketing manager at Agilent (Santa Clara, CA). Other factors must also be considered. Ade Kujore, marketing specialist at Cecil Instruments (Cambridge, UK), says, "Users require HPLC systems that are fast, sensitive, stable, and easy to operate, with wide dynamic ranges." She adds, "The ability to efficiently perform robust method development and to produce consistently reliable, inter-laboratory data are also requirements of HPLC systems."

A particular scientist's needs depend on the work at hand. For example, Glenda Gillaspy, PhD, professor of biochemistry at Virginia Tech (Blacksburg, VA), says, "My lab mostly examines a specific type of signaling molecule, so my HPLC needs are fairly specialized." She adds, "What matters most is that we can separate different inositol phosphate molecules and simultaneously measure radioactivity from eluted samples."

Controlling costs

"The running cost of the system is a key point, including the initial capital investment and longerterm cost of ownership," Frank says. "For someone still using conventional HPLC, purchasing a new system can be monetized in just one year for some customers." The return on investment comes in several forms: higher throughput with the same or higher quality results and saving on solvents. Frank adds, "This is extremely important for people doing contract work, because they have to account for every cent of expense to earn a profit."

In some cases, modern HPLC technology can also reduce the number of runs. For example, to separate a sample into components that vary widely in concentrations often takes multiple HPLC runs. Nonetheless, Agilent's High Dynamic Range Diode-Array Detection Solution can, as Frank says, "do it all in one run." He adds, "You turn a severalhour project into half the time, and you save on standards and blanks."

Costs can also be cut with platforms that accomplish multiple tasks. For instance, Kujore says, "Our WaveQuest ultra-fast scanning UV/ visible HPLC detector will perform the work of both a diode array detector and a variable wavelength UV/ visible detector."

Top ten features/factors respondents to our latest survey said they look for when buying an HPLC system:

1. Accuracy
2. Precise and accurate flow rates
3. Quality of data
4. Resolution
5. Maintenance
6. Sensitivity
7. A vailability of supplies and accessories
8. Price
9. Ease-of-use
10. Service and Support

Time for a change

Sometimes, economics alone encourage HPLC upgrades. Other aspects can also signal that it's time for a new system. As an example, Kujore says, "If the software is too inflexible to meet current requirements, then an alternative software package should be considered." She adds, "If an item of hardware of the HPLC system is not sufficiently flexible to cope with current or future requirements, then an alternative item of hardware should be considered."

In shopping for a new HPLC system, though, Frank says, "Think about what you really need. What is the most important point that you'd like to improve?" It could be sensitivity or throughput, for instance. Keep in mind, however, that no single system can do it all. "There are some limitations dictated by nature," Frank says. So know what you want, but also keep in mind what is possible and discuss this with your sales representative.
Article Courtesy of Lab Manager Magazine: High-Performance Liquid Chromatography - New Platforms Save Time and Money
Check out our HPLC Systems category on LabWrench