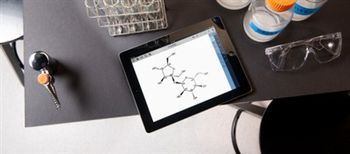 PerkinElmer, Inc., a global leader focused on improving the health and safety of people and the environment, announced the availability on the App Store of the ChemDraw® and Chem3D® apps. With over a million users around the world, ChemDraw is the recognized standard drawing tool not only for chemists in education and R&D, but also for those publishing structures in scientific articles, journals and patents. The new mobile ChemDraw and Chem3D apps also feature PerkinElmer's Flick-to-ShareTM technology, a groundbreaking development in scientific collaboration and data sharing that brings molecular education to a new level, allowing scientists to share critical information and spark innovation in real-time both in and out of the laboratory.
Since 1986 when it first became available on the Macintosh, the ChemDraw software suite has been considered the gold-standard among scientists world-wide, allowing them to draw, study and save molecules and chemical reactions. Three decades later, with the new app for iPad®, the global chemical drawing community will now have the freedom to draw and share chemical structures everywhere and every time inspiration strikes.
"The launch of ChemDraw and Chem3D technology in a mobile form is a major milestone in the field of scientific computing," said Michael Stapleton, Vice President and General Manager, Informatics at PerkinElmer. "As the global leader in chemical drawing, we can now provide all chemists - from research scientists to high school students - with cost effective, portable and accessible applications that capture and share their moments of inspiration. Now everyone, from relative newcomers to the most experienced chemists, can quickly sketch and save ideas and then easily share them, bringing the power of PerkinElmer's ChemDraw and Chem3D technology to the fingertips of researchers."
The Chem3D app is a 3D molecular viewer that allows users to download 3D structures of many types and display them with unique versatility. Scientists can explore the 3D structures by using simple touch gestures to rotate, expand and contract the models for a richer view of their spatial properties. The flexibility of the Chem3D app's display helps researchers and students gain a better understanding of the 3D nature of molecules and how their shapes influence their properties. The Chem3D app can display 3D models as ball-and-stick, wireframe, space-filling and cartoon and can apply these modes to a wide variety of structures including proteins, DNA, RNA, crystals, assemblies and small organics.
Flick-to-Share™ Technology
The ChemDraw and Chem3D apps feature Flick-to-Share technology, a patent-pending sharing tool developed by PerkinElmer, along with support for multiple file formats and import/export capabilities. The Flick-to-Share technology gives users the ability to easily and rapidly share molecular structures across mobile devices, requiring only a single finger swipe gesture to transfer images from one to another user regardless of geographic location. The Flick-to-Share technology allows users to eliminate the need for multi-step emails or cloud storage services.
Robin Smith, Vice President R&D of Informatics at PerkinElmer added, "These mobile apps have been developed by the same team that developed the ChemDraw and Chem3D software technology for the PC and Apple's Mac® computer. Scientists can be confident that the mobile apps will embody the same depth of chemistry knowledge, attention to detail and passion for science that is part of the ChemDraw technology tradition."
The ChemDraw and Chem3D apps are the first of a series of mobile applications PerkinElmer is developing to innovate on its leading electronic laboratory notebook (ELN) and scientific instrument franchises. PerkinElmer's ImageENTRY™ application for the iPhone®, for example, will simplify and secure the process for scientists inputting images and data into their PerkinElmer E-Notebook. PerkinElmer leverages its deep scientific knowledge and expertise in the development of the most comprehensive suite of scientific informatics and software solutions - from instrument generated data, to enterprise solutions to mobile applications. Built by scientists for scientists, PerkinElmer's integrated business-wide information management system provides companies and academic institutions with the necessary tools to aggregate, search, mine, analyze and visualize critical data so that they can turn data into actionable insights in an automated, predictive and scalable way.
ChemDraw is available for the introductory price of $9.99 (US dollars) and Chem3D is available free of charge from the App Store or at www.itunes.com/appstore.