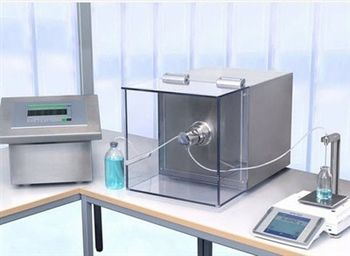 With the new FHM 1000 series, Bosch Packaging Technology, one of the leading providers of process and packaging technology, introduces semi-automated, modular laboratory devices for liquid pharmaceutical filling operations. The first prototype of the series was presented to an expert audience at the "Crailsheimer Pharmatag" in May 2013. The new development is particularly suited for pharmacists and for the application in laboratories and early clinical trials. Its filling parameters can be easily scaled-up to production systems: all relevant parameters are measured and specified in the laboratory, and can then be transferred to production machines without further settings.

Early involvement of customers and end users
The development of the FHM 1000 prototype was based on early involvement of customers and end users in the process. "Our goal is to offer our customers compact and modular laboratory filling systems that support their everyday working processes," said Joachim Brenner, site manager Crailsheim and responsible for the pharma liquid product portfolio worldwide. The FHM series significantly facilitates the design of experiments (DoE) for customers. Recording parameters makes it possible to precisely determine cause-effect relationships between influencing factors and target variables by involving customers' experience.

Successful implementation of "user experience" approach
This "user experience" approach has already been successfully implemented within the Bosch Group. In the electromobility sector, for instance, the very early involvement of potential customers in the design and development process lead to a quick marketability of several products. "Our new development was a good occasion to transfer this internal know-how to the pharmaceutical area. An interdisciplinary team of development and market experts successfully implemented the user experience approach for our new laboratory device FHM 1000," said Andreas Groß, product manager at Bosch Packaging Technology.

Four different modules
The laboratory device series currently consists of four different modules: the Human Machine Interface (HMI), the filling module, the weighing module and the needle movement. All automatic processes are operated from the HMI, which is the centerpiece of the laboratory device FHM 1000. The filling process with its filling needle movement and in-process control (IPC) weighing are parameterized via the HMI, whereas in- and output of the packaging is done manually. "The recorded results and parameters can be scaled-up and transferred, for example to high-performance lines," Groß explained.

The prototype operates with a peristaltic pump. Further filling modules are planned, for instance with a rotary slide piston pump. According to demand, the different filling systems can then be flexiblly exchanged. The integration of a closing module is also planned, enabling packaging to be equipped with different types of stoppers. A protective housing for both the filling module and the needle movement ensure product and operator safety. All modules conform to the EU Machinery Directive 2006/42/EG. "Our customers could already get a first impression of our development at the Crailsheimer Pharmatag. Their reactions have encouraged us to work even faster on the development of the laboratory device," Brenner said.