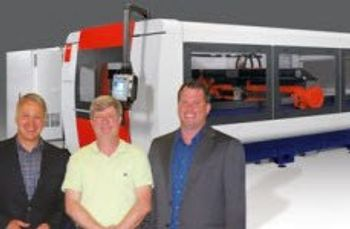 On June 4, 2013, Schenck AccuRate announced a significant investment in its Whitewater operation with the dedication of a new Bystronic laser cutting machine during a company ribbon cutting ceremony. The equipment was presented to the company by Dr. Jochen Weyrauch (Schenck Process CEO), Jay Brown (Schenck Process North America CEO), Dirk Maroske (Schenck Process North America COO), and Brian Hartwig (Schenck AccuRate Executive Director of Operations).

The state-of-the art Bystronic BySprint Pro 3015 laser cutting machine will give the Whitewater facility full in-house metal fabrication capabilities for its production of bulk solids weighing and feeding equipment.

Dirk Maroske, COO of Schenck Process North America, states, "I am excited for our company to see the new, state-of-the-art Bystronic laser cutter go into service. This new technology will increase our ability to develop innovative products and provide services at the highest possible level of quality while maintaining fair market prices. In turn, our customers will appreciate a significant competitive advantage. This has been a great day, and I am extremely proud of Gordy Miles, Production Manager, and Brian Hartwig, Executive Director of Operations, who along with their teams did an outstanding job with the Laser Cutter Project.

Schenck AccuRate is a global supplier of bulk solids handling equipment and systems. Schenck AccuRate manufactures volumetric and gravimetric feeders, weighfeeders, mass flow meters, bulk bag discharging systems, alternative fuel feeding systems, rail scales, and vibratory feeders. The company serves a diversified customer base across a wide range of industries including food, plastics, pet food, chemicals, pharmaceuticals, cement, aggregate, gypsum, steel and transport automation.