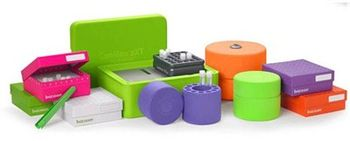 Fashionable design is not a phrase that one associates with medical laboratories, but products designed by a company called BioCision are working to change that. The effort involves more than just fun – BioCision is using design and color to help laboratories work smarter and reduce the risk of errors.

To process samples, most labs still use buckets of ice, refrigerators, water baths and mostly grey or glass containers. In recent years, leaders in life sciences research have studied lab procedures in efforts to streamline operations and improve quality. Older generation products for storage and processing make it difficult to organize samples in an intuitive way. This can lead to delays in processing and handling that can affect sample quality and results.

Product engineers at BioCision, a California-based manufacturer of portable benchtop products for sample handling and preparation, worked over many years to develop a line of products unlike any others used in sample processing in labs. They are engineered to provide stable temperature control for samples without the use of alcohol, which streamlines the process and improves standardization. But they also worked to design products that work better ergonomically – based on how lab scientists interact with samples. And then they made their products available in fluorescent colors. In addition to being a spot of fun in the lab, the use of color makes it easier to store similar samples and then find them when you need them. Labs can develop storage protocols based on color so that any scientist in the lab is able to easily find a sample.

The response to this change in design for sample processing has been amazing – BioCision is recording double digit growth each year and recently announced a deal to develop a line of custom products for the American Type Culture Collection (ATCC), the world's leading provider of authenticated biological material. BioCision sees a future where products can be custom designed and color-coded to meet the needs of major laboratory systems around the world.

Might you be interested in speaking with Rolf Ehrhardt, MD., PhD., President and Chief Executive Officer at BioCision about his efforts to introduce a new level of design and color to laboratory operations and how design can play a role in improving lab efficiency, reducing errors, and delivering better service to patients? He can also talk about BioCision's plans to expand operations to meet demand for these new products around the world. Rolf is also available to author a bylined article on this topic.