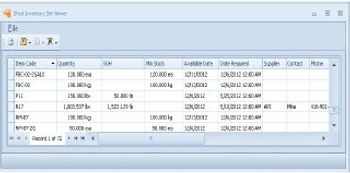 Chemical Management solution provider Valdata Systems has announced the incorporation of MRP functionality with its inventory management software.

Valdata Systems , who offers the popular CMS – Chemical Management System which features container level inventory tracking, 99.9% inventory accuracy and the elimination of bad batches due to human error, says that the MRP planning tool is another benefit of the software which helps their customers improve productivity, reduce costs and manufacture with confidence.

The challenge facing production managers is how to meet their core planning objectives: ensuring materials are available for production and products are available for delivery; maintaining the lowest possible levels of inventory and product in stock; and planning manufacturing activities, delivery schedules and purchasing activities.

Valdata's MRP system is designed to assist production managers in scheduling and placing orders for both finished goods and raw materials. The software answers the three key questions of requirements planning:

1. What items are required?

2. How many are required?

3. When are they required?

Tom Winter, President of Valdata Systems, said: "What makes our MRP so effective and accurate is the quality of the data being used for calculations. Because our inventory module guarantees 99.9% inventory accuracy, you have the right information going into the MRP – and the right information coming out."

The CMS MRP system reviews information across all CMS modules to calculate MRP results including current inventory, current shipping orders, current manufacturing orders, current purchase orders, minimum stock, lead time, QC lead time and costing recipes for items.

Another key feature of the Valdata MRP is its ease of use. Many traditional MRP systems must be run overnight. The Valdata CMS MRP can be run "on the fly" at the touch of a button. The system checks the status in real time of all inventory and orders, and returns a report showing the status of materials required for all orders, and which items must be reordered, how much needs to be ordered, and when.