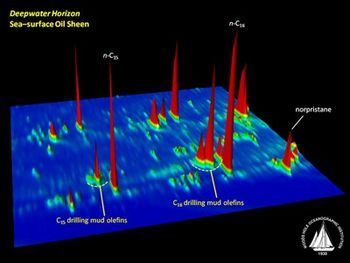 Researchers from the Woods Hole Oceanographic Institution (WHOI) and the University of California at Santa Barbara (UCSB) successfully completed a chemical analysis of oil sheens recently found floating at the ocean's surface near the site of the Gulf of Mexico Deepwater Horizon oil spill. The study, funded by the DEEP-C consortium and the National Science Foundation's (NSF) Division of Ocean Sciences and Division of Earth Sciences, found that the oil sheens were caused by pockets of oil trapped in the wreckage of the sunken rig, confidently ruling out concerns that the Macondo well, which was capped in July 2010, might be leaking.
The scientists used comprehensive two-dimensional gas chromatography (
GC×GC
) from
LECO
to first confirm that the sheen samples skimmed from the sea surface contained oil from the Macondo well. After comparing the sheen samples to other field samples analyzed over the past three years, scientists found a match in the chemical makeup of the sheens with debris from the Deepwater Horizon found floating in May 2010.
"We were able to determine that the source of the leaking oil at the Deepwater Horizon accident site was not from the reservoir, but instead from the wreckage of the drilling rig," said Robert Nelson of Woods Hole Oceanographic Institution. "This was accomplished with very state-of-the-art forensic analysis of the oil film at the sea surface using LECO GC×GC instruments at the Woods Hole Oceanographic Institution. What this paper convincingly shows is that it is possible to fingerprint petroleum and refined petroleum products accurately and on a compound-specific level using GC×GC. Further, this type of high resolution analysis is not possible on small volume trace-level components using conventional GC techniques. This paper showcases the power of the GC×GC technique and how it can be utilized in real-world applications, and in this case, as a powerful forensic tool in a problem of national significance."
The results of the research were recently published in the journal Environmental Science & Technology. The research team consisted of Chris Reddy, Christoph Aeppli, and Robert Nelson of WHOI; and David Valentine and Matthias Kellermann of UCSB. In addition to the NSF, the research was funded by the Gulf of Mexico Research Initiative, the WHOI, and a Swiss National Science Foundation Postdoctoral Fellowship.