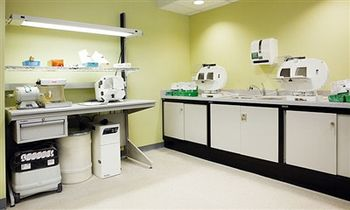 Lista International Corporation is pleased to offer durable storage solutions for dental, medical, and other laboratories. These solutions include base cabinets, wall cabinets and overhead storage built into workstations. All Lista storage solutions are designed to be durable and offer optimal efficiency and convenience for your lab.
Lista offers an extensive selection of base cabinets and wall cabinets to meet the size and functionality requirements of any facility. All cabinets can be configured with door and shelf storage, drawer storage, or a combination of both. They can include sink cabinets, with multiple sink options, and wall cabinets available as open shelf, sliding or hinged doors, or Plexiglas doors for easy part identification. All Lista drawers are full-extension, and have a 440-lb. capacity.
Lista also offers a variety of drawer and cabinet storage built directly into workbenches and workstations. These also come with hinged or sliding doors, or no doors at all, for easy retrieval of frequently used items. A variety of drawer sizes are available to exactly fit the size of the materials being stored, and provide ergonomic access for workers. All Lista storage solutions are made to last as long as the workstation, providing long-term reliability and efficiency.