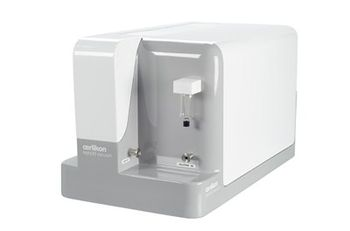 Chemical Vapor Deposition is widely used in research and development laboratories, especially for the synthesis of carbon nanostructures of graphene, vertically aligned carbon nanotubes or silicon nano wires.
Oerlikon Leybold Vacuum
now offers a safe, simple, plug & play solution.
"In this minuscule world of atomic-sized layers, fast and reproducible experiments are vital. The
CVD Cube
of Oerlikon Leybold Vacuum offers just these features in a very compact and reliable experimental system." says Prof. Dr. Mark Hermann Rümmeli, Center for Integrated Nanostructure Physics (CINAP) IBS, Sungkyunkwan University, Suwon, Republic of Korea, the expert for graphene research at the IFW Institut für Festkörper und Werkstoffforschung in Dresden.
Chemical Vapor Deposition (CVD) is among the most reliable methods producing large area graphene films on different metal substrates with diverse carbon sources.
Bench top CVD Cube
The bench top Thermal CVD Cube grows a bilayer graphene (BG) using a thermoplastic polymer as a solid carbon source as evidenced by Atomic Force Microscopy (AFM) and Optic Microscopy (OM. This application paves the way for new experimental set-ups since different solid carbon sources including other polymeric films and small molecules can be used as feedstocks.
A flat monolayer of honeycomb arranged carbon atoms packed on a two dimensional fashion defines graphene. This bi-dimensional nanomaterial has been the subject of intense studies in recent years due to its unique properties, encompassing charge transport, thermal, optical and mechanical features. Current advances on these fields might lead to graphene and graphene based materials implementation on transparent flexible electrodes, energy storage devices, chemical sensors and organic electrodes.
Opto-electric properties of graphene have proved to be extremely dependent on targeted substrate, therefore, dielectrics/graphene systems capable of emulating suspended graphene properties while overcoming intrinsic difficulties of these suspended samples are a hot topic among the rapidly evolving nanotechnology field. For these experimental studies, the Oerlikon Leybold Vacuum bench top Thermal CVD reactor has been successfully used. The system allows to sequentially program each reaction step through its CVD Express software at ease.
Apart from its user friendliness with plug & play facility, it offers various valuable features
Precise, configurable mass flow control and real time readings monitored experiments.
Software directed liquid bubbler module warrants equal vaporized liquid loads and make available a vast number of reagents as liquid feedstocks.
Comprehensive experiment settings can be stored and recalled for reproducibility tests.
One-zone temperatures of 1000°C furnace, resistance heating and constant temperature reaction zone
Safety alarms
The CVD Cube is therefore the most compact thermal CVD reactor in the market, specially designed to meet the needs of research laboratories while adopting the highest safety standards.