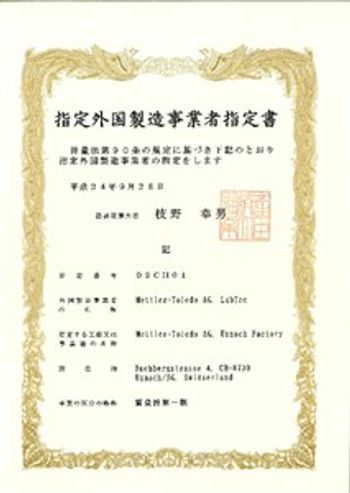 METTLER TOLEDO
is proud to have recently become the first laboratory balance producer worldwide to be certified as a Foreign Designated Manufacturer (FDM) for Japan. The certification was awarded following a long application process and subsequent stringent quality audit by the Japanese Ministry of Economy, Trade and Industry (METI), accompanied by a technical expert from the Japanese National Institute of Metrology (NIM). The FDM status for METTLER TOLEDO's precision balance manufacturing confirms the highest Japanese production quality standards have been met. With the endorsement that METTLER TOLEDO's in-house instrument verification procedures meet Japanese standards for regulated industries, products can now be shipped directly to customers and dealers, making the buying process much easier and drastically reducing delivery time.
In Japan, all laboratory balances used in regulated markets, such as pharmacies, medical field or trade, must be verified in accordance with standards set by the Japanese Weights and Measures Office. Non-designated balance manufacturers must therefore submit every balance to be sold in these markets to the Weights and Measures Office for inspection and verification. Only after a verification certificate has been issued, can the balance be delivered to the purchaser. This process can extend the delivery time to up to six weeks and is not without cost implications. All Japanese manufacturers have the designated manufacturer status and therefore do not need to go through this verification procedure.
As part of the FDM certification process, METTLER TOLEDO was required to submit extensive documentation to METI describing in detail the quality control procedures at the manufacturing plant in Uznach, Switzerland. METTLER TOLEDO's quality standards already comply with ISO 9001-2008 and their balances meet OIML recommendation R76 and EN45501 for non-automated weighing instruments - two key standards accepted worldwide. Despite also having FDM status in Europe, METI required that METTLER TOLEDO fulfilled the Japanese standards as defined in a document dating from 1995 and based on an earlier standard, ISO 9002-1987.
Meeting the quality control and production standards was easy for METTLER TOLEDO. Some additional testing procedures were introduced into the manufacturing process to meet the specific requirements of the Japanese standards. Despite cultural and language differences, the only real hitch in the process was the Japanese condition for an individual manufacturer to be based on one site. With production in Uznach and R&D in Greifensee, this, at first, seemed insurmountable. METTLER TOLEDO argued that this is not uncommon in today's world of commerce, particularly for large manufacturers. Following several discussions with technical experts from NIM, METI finally accepted the split site set-up and were invited to audit the Uznach production site in March 2012.
Following the recent announcement from METI that METTLER TOLEDO had successfully passed the audit and been awarded Foreign Designated Manufacturer status, René Lenggenhager, General Manager for balances said, "This is a big achievement for us as a company. It shows that our manufacturing plant in Uznach fulfills the highest quality standards defined by Japanese Weights and Measures law, which is much higher than the ISO system. We are the only non-Japanese precision balance manufacturer with this certificate, which not only helps our customers in Japan, but in all countries with Japanese companies. Our balances, known for their Swiss quality, now offer the Japanese standard of quality too."