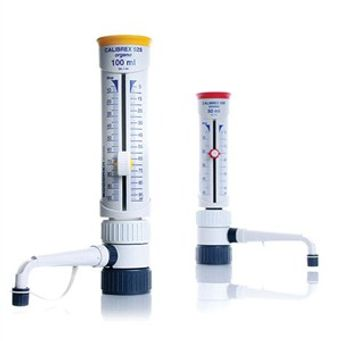 WHEATON® introduces the Calibrex™ organo 525 and the Calibrex™ solutae 530, new bottle top dispensers that are destined to make scientists' lives easier and more productive. Both models smoothly dispense exact volumes of liquid reagents directly from bottle or flask. The dispensers are available exclusively in North America from WHEATON®, the company that designs and delivers today's most innovative solutions for the laboratory research, diagnostic packaging and specialty pharmaceuticals industries.

With its ground glass plunger, the organo 525 is ideal for dispensing organic liquids and non-crystallizing solutions. The solutae 530 has a PFA-coated plunger that is resistant to salt solutions, weak and strong acids, as well as bases, which prevents the plunger and barrel from seizing together. Scientists can check continuously updated chemical compatibility data by scanning the QR code imprinted on each unit.

"Labs are pursuing productivity in today's economy at a rapid pace, and our scientists are looking for advantages," says Wayne Brinster, President and CEO of WHEATON®. "This line of bottle top dispensers is exactly what we were looking for to support them and their life's work," he added.

Precise dispensing volumes up to 25mL, 50mL and 100mL are easily set with one hand using the spring loaded sliding cursor, or by using a classic screw button supplied with each dispenser. No tools are required for cleaning and maintenance – users can calibrate the dispensers using the integrated key located under the plunger cap. Calibrex™ dispensers can be autoclaved fully assembled at 121°C / 250°F. Each unit is supplied with a 45mm base thread and adapters for 32mm, 38mm and 40mm bottle necks. Every dispenser is assigned a serial number, and provided with a certificate ascertaining it has met quality control standards. Manufactured in Switzerland by Socorex, Calibrex™ bottle top dispensers are supplied with a two-year warranty.