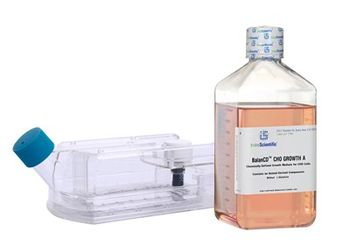 WHEATON®
and Irvine Scientific have collaborated to introduce a high yield, small-scale solution for bioproduction. The solution consists of a WHEATON®
CELLine™
bioreactor flask paired with Irvine Scientific's BalanCD™ CHO Growth A animal component-free, chemically-defined medium. Scientists may now quickly set up and perform small-scale antibody and protein production while decreasing the cost per milligram produced. This bundled product is available now from WHEATON® and its extensive distributor network.
Antibodies and proteins for research and therapeutic purposes are typically produced in a modified cloned cell. The most widely used cells for in vitro production methods are Chinese Hamster Ovary (CHO) cells due to their stable gene expression, rapid growth, high protein production rate, and rich background of published data. The combination of a high-throughput bioreactor, an optimized medium formulation, and an easy to follow protocol for cultivating CHO cells, provides a highly productive development platform.
WHEATON® CELLine™ Bioreactors provide an ideal growth environment for high-density cell cultures. Cells are separated from the bulk growth medium by a dialysis membrane that regulates the flow of nutrients and waste products to and from the cell chamber. The lower side of the cell chamber is made of a gas permeable membrane allowing continuous exchange of oxygen and carbon dioxide promoting high-density cultures. CELLine™ bioreactor increases overall yields, and reduces use of consumables and production costs.
Irvine Scientific, a large-scale producer of advanced cell culture media, developed BalanCD™ CHO Growth A medium for optimum CHO cell growth and production. This particular formulation, in combination with the CELLine™ bioreactor, yields antibody levels higher than conventional methods without the use of a mechanical shaker or agitation.