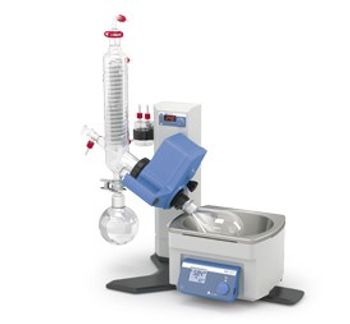 With the RV 8, IKA introduces an affordable rotary evaporator backed by the proven technology of the successful IKA rotary evaporator range. This entry-level model is recommended for all standard evaporation applications
This model comes equipped with the newly designed HB 10 heating bath, which has enhanced safety features. A key lock prevents any unintentional alteration of the bath temperature. The handle in the casing enables the user to dispense the heated medium without touching the actual heating bath itself. In addition to the vertical glassware, ,all glassware in the IKA RV 10 range can be used.
The partially automated lift system has a "Safety Lift-out Function", which lifts the evaporator flask out of the heating bath in the event of a power outage. The lift mechanism allows the evaporation flask to be positioned quickly and precisely while using only one hand. The immersion angle and height are adjustable as well. In addition, flasks can be displaced by up to 140 mm.
Sensors (patent applied for) in the lift system handle release the lock mechanism when touched. Otherwise, the system remains locked. This too can be operated by using only one hand, and equally accommodates both right and left-handed operators.
Additional features of the RV 8 include digital displays of the rotation speed and heating bath temperature, which enable optimal control of the entire distillation process.