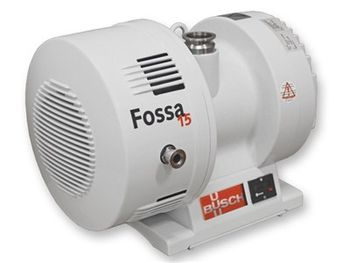 Leading vacuum pump, blower and vacuum systems manufacturer
Busch
has launched a new scroll vacuum pump, the
Fossa FO 0015 A
.
The Fossa is a hermetic sealed, completely dry-compressing vacuum pump which is suitable for a wide range of specialist applications. These include the handling of noble gases, helium leak detectors, laboratories and R & D, analytical devices, mass spectrometers and electron microscopes, to name but a few.
A key sector for Fossa is in the semiconductor industry, where it is used for the evacuation of load locks and transfer chambers. Other general industrial applications include the handling and transport of inert gases, plasma cleaning machines and coating machines. When used in conjunction with a turbomolecular vacuum pump, the Fossa provides a completely dry vacuum for use in high vacuum applications.
Mark Sumnall, UK sales director for Busch (UK) Limited, said: "From a technical perspective, the new Fossa has been designed and constructed to ensure that no lubricated mechanical parts are located within the compression chamber. Thanks to its hermetically sealed design, contamination or chemical reactions with pump operating fluids are eliminated and there's also an optional gas-ballast valve which allows for the improved pumping of vapours.
"Lubricated for life bearings and the absence of shaft seals have helped to make the Fossa one of the lowest maintenance vacuum pumps available and we're confident this new model will boost our range of medium vacuum pumps and prove to be popular with our customers. An additional benefit is the spiral tip seal can be replaced by the operator in just a few minutes, without the need for special tools."
The Fossa reaches a final pressure of < 2.5 x 10-2 mbar with a suction capacity of 15 m3/h, which contributes to short evacuation times. Compact in design means the pump is easy to transport, and its low-vibration, quiet operation allows it to be set up and operated almost anywhere.
Busch is the global market leader for vacuum and low pressure pumps for a wide range of applications, including food and packaging, and offers a comprehensive product portfolio. As a pioneer in vacuum packaging, this year (2013) Busch is marking its 50 year anniversary by celebrating half a century of continuous quality, innovation and service to become the premier supplier of vacuum and over pressure equipment.