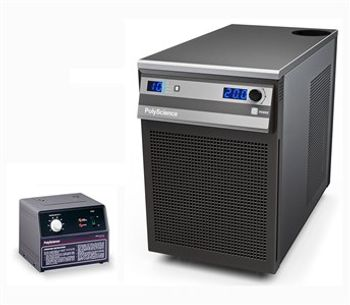 Two powerful, yet easy-to-use products for controlling temperature during respirometry applications are now available from
PolyScience
. Ideal for use by researchers and others performing metabolic studies, biodegradation assessments, forensic evaluations, compost research, toxicity screening studies, and other anaerobic or aerobic research, the Model 210 Heated Circulator and Model 5206M Recirculating Chiller provide temperature control over a range as broad as -10° to +70°C (14° to 158°F).
Designed for use with anaerobic respirometers, the
Model 210
Heated Circulator controls temperature from ambient to +70°C (158°F) with ±0.2°C (±0.4°F) stability. It has a 750 watt heater and a single speed centrifugal pump that delivers up to 11.4 liters/minute (3.0 gallons/minute) at 0.13 bar (2.0 PSI).
The Model 5206M Chiller is recommended use with aerobic respirometers. This ¼ HP chiller controls temperatures from -10° to 70°C (14° to 158°F) with ±0.1°C (±0.2°F) stability and a magnetic drive centrifugal pump that delivers up to 15.5 LPM (4.1 GPM) at 0.69 bar (10 PSI).