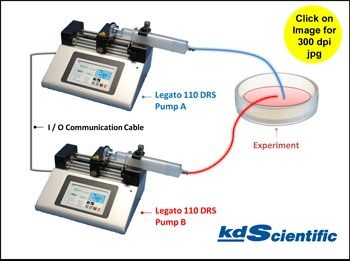 The NEW Legato 110 Dual Rate Syringe Pump System (
Legato 110 DRS
) offers researchers complete flexibility to start two pumps simultaneously for delivery of two independent flow rates. The pumps are synchronized through a special input/output cable included with the system.
The new Legato 110 DRS comes complete with two programmable infuse / withdraw syringe pumps along with an input / output communications cable to synchronously operate the pumps.
This innovative syringe pump system allows the user to easily configure two different pumps with independent flow rates using the built in multistep programming and input / output signal communication. All control is set through the innovative Legato touch screen user interface. No external programming or computer is required.
Both syringe pumps in the system have a wide flow rate range from 1.28 pl/min to 88.28 ml/min. Each pump can be individually set for whatever the experiment requires.
Syringes from 0.5 ul to 60 ml can be used. The Legato 110 Dual Rate Syringe Pump System has an accuracy of +/-0.5% and a reproducibility of +/- 0.05%.
The large color display on both pumps in the system allows the user to see all the system operating parameters to ensure proper operation during the experiments. Syringe size and flow rates are easily displayed as well as the volume delivered and the elapsed time.
KD Scientific
designs, manufactures and sells a range of quality fluidics equipment and evaporators used by research laboratory markets worldwide. We provide world class service and support before and after the sale.