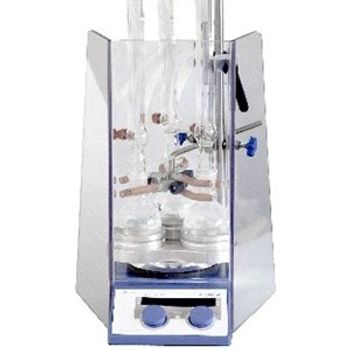 Asynt
's Lab Safety Shield has been designed to neatly fit around popular brands of stirrer hotplate to provide protection for chemists from draughts, splashes, aerosols and spills.
Ideal for use where fumehood space is at a premium, the compact and highly affordable Asynt
Lab Safety Shield
provides additional protection to chemists undertaking applications such as heated parallel reactions in tubes.. The device also beneficially shields reactions from the cooling effect of fumehood ventilation, particularly important when consistent and reproducible heating to parallel experiments is required.
Manufactured from robust 5mm polycarbonate, the Lab Safety Shield is resistant to a wide range of laboratory solvents and is temperature-resistant to 170°C.
Designed with a small footprint (29.5 x 16 x 17cm) to minimise use of valuable fumehood space, the shield maintains access to hotplate controls and gives good all-round visibility of the reaction or process. Manufactured in the UK, this is the only compact safety shield available for under £100 which fits Asynt, IKA and Heidolph stirrer hotplates