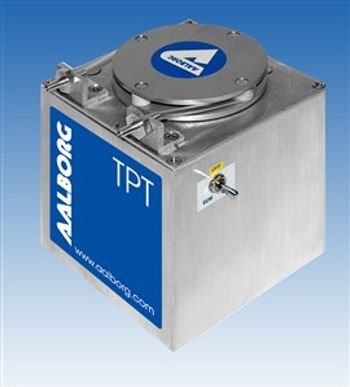 AALBORG® Instruments
is pleased to announce the introduction of the Model TPT low cost / low flow mini peristaltic pumps.
These New models feature Flow Rates from 1 ml/min up to 30 ml/min by selecting from a choice of 4 different RPM drives (8, 12, 17 or 25 RPM) and a choice of tubing sizes.
Direction of flow is reversible, clockwise or counterclockwise by use of the Control Switch (ON-OFF, CW-CCW Reversible settings).
The Motor is a continuous duty 24 VDC gear motor; brush style with internal permanent magnet. An optional Power Supply can be ordered separately providing 24 VDC, 1.08 Amp, 2.1mm, center positive DC jack
An optional Counter indicates the number of revolutions; manual or remote "pre-set" feature.
Construction consists of a rigid metal housing, aluminum square tube and top and bottom plates. The Roller Head has 4 Rollers, glass-filled PTFE for trouble-free, quiet operation. The compact size provides a small 4" x 4" footprint.
Recommended tubing sizes include:1/32"ID X 1/32" wall; 1/16"IDX1/32"; 1/8"IDX1/32 which can be ordered in pre-cut lengths with appropriate connectors.
The TPT Pumps are ideal for many applications including pH control, fermentation equipment, nutrient dosing and environmental sampling functions.